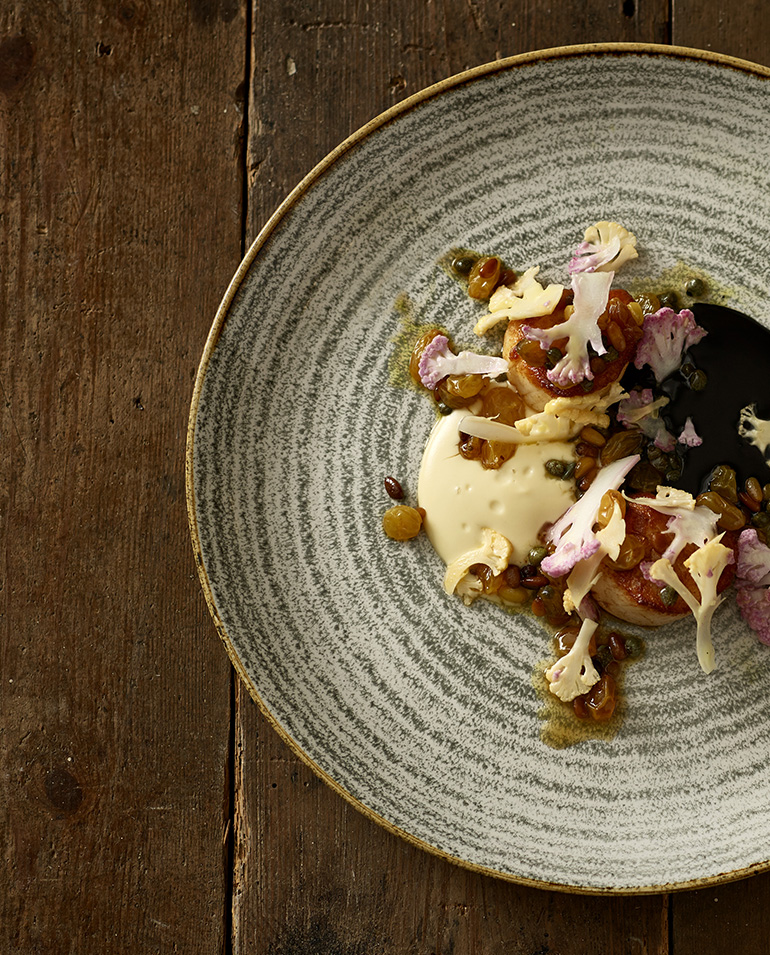 Bill of Fare
Lunch & Dinner
A contemporary celebration of our culinary heritage, prepared with the finest British produce.
The Oysters
West Mersea rock oysters
Ea £3 / ½ dozen £18 / 1 dozen £36
Jersey rock oysters
Served with a shallot and red wine vinaigrette Ea £3 / ½ dozen £18 / 1 dozen £36
Starters
Dorset crab salad
Brown crab mayonnaise, Granny Smith apple, caramelized walnut & wood sorrel
£16
Chicken liver parfait
Pear and apple chutney & toasted brioche
£14
London smoked salmon
Wildes London zero curd, sea herbs & pickled cucumber
£14
Buccleuch Estate beef tartare
Smoked egg yolk & Gentleman's relish
£15
Leek and potato soup
Crispy hens egg & chive crème fresh
£12
Simpson's potted shrimps
Brown shrimps, mace butter, mixed herb salad & toast
£15
Baby spinach salad
Globe artichoke, asparagus and lemon dressing
£16
Salt-baked Lincolnshire beets
Goat's curd, Yorkshire rhubarb & honeycomb
£13
Yorkshire fishcake
Lemon gribiche sauce, fermented fennel, puffed capers & smoked Lincolnshire eel
£15
Hand-dived Scottish scallops
Charred scallop emulsion, cauliflower, curried raisins, pine nut & caper dressing
£21
Simpson's Signatures
Pan-fried North Sea cod
Salt-baked celeriac, crispy chicken skin & pickled mushrooms
£28
Roasted herb-fed chicken breast
Variegated kale, potato foam & shards, smoked bacon sauce
£27
Daphne's Welsh lamb rump
Braised shoulder, charred hispi cabbage, High Cross cheese & rosemary jus
£29
Pan-seared Gressingham duck breast
Parsnip, spiced pear, pulled leg confit & red wine jus
£28
Smoked haddock and salmon pie
Scottish mussels, prawns topped with gratinated potato & Rebellion cheese
£19
Barley and cauliflower cheese
Grilled Portobello mushroom, London Howard cheese & pickled walnut purée
£19
Free range Blythburg pork belly and braised cheek
Burnt apple puree, pickled radish, crackling & mustard jus
£28
Buccleuch Estate 28 day dry-aged Beef Wellington
English bobby beans, potato fondant, confit shallot & peppercorn sauce
£42
Steak and kidney pudding
Traditionally steamed in suet pastry, whipped potato, peas & gravy
£18
Lord Woolton pie
Whipped potato, peas & parsley sauce
£19
Beer-battered fish of the day
Crushed peas, chunky chips, tartare sauce & lemon
£20
Grill
10 oz Buccleuch sirloin
28 day aged British beef, watercress & grilled mushroom
£32
8 oz Buccleuch fillet steak
28 day aged British beef, watercress & grilled mushroom
£38
10 oz Buccleuch flat iron steak
28 days aged British beef, watercress & grilled mushroom
£24
Herb-crusted rack of lamb
Buttered Savoy cabbage and capers
£32
South Coast Dover sole
Grilled or Meunière served with spinach, brown butter, lemon & capers
£42
Carving Trolleys
daily
28 day dry-aged roast rib of Scottish beef traditionally served from our trolley
Yorkshire pudding, slow roasted carrots, beef fat roasted potatoes, gravy & horseradish sauce
£35
Daphne's Welsh lamb traditionally served from our trolley
Potato gratin, English fine beans and mint gravy
£35
Extra slice of roast lamb
£9.5
Extra slice of roast beef
£9.5
Sides
Glazed heritage carrots
£5
Wilted / Creamed spinach
£5
Cauliflower and cheese
£6.5
Creamed Savoy cabbage
With smoked bacon
£5
Puddings
St. Clement posset
English raspberries, pistachio crackers, raspberry sorbet and pistachio oil
£10
Simpson's trifle
Yorkshire rhubarb, vanilla custard, Ridgeview sparkling wine Chantilly and strawberries
£10
Summer pudding
Orange blossom brioche, berry compote and clotted cream sorbet
£10
Chocolate Knickerbocker
Chocolate ice cream, white chocolate sorbet, hazelnut brownie and toffee sauce
£12
Spotted Dick
Warm suet sponge, custard, raisin coulis and vanilla crisp
£10
Simpson's Cranachan
Whiskey infused Crowdie cheese, oat crumble, honey crisp, Yorkshire rhubarb
£12
Baked Alaska
Vanilla ice cream, spit roast pineapple and rum flambé
£16
Freshly churned ice-creams and sorbets
Brandy snaps
£10
Cheese selection
Tunworth / Goddess / Pave Cobble / Cashel Blue / Ogleshield / Mossfield organic. Served with chutney, quince jelly, crackers, soda bread and fruit bread.
3 of your favourite £10 | 5 for £15