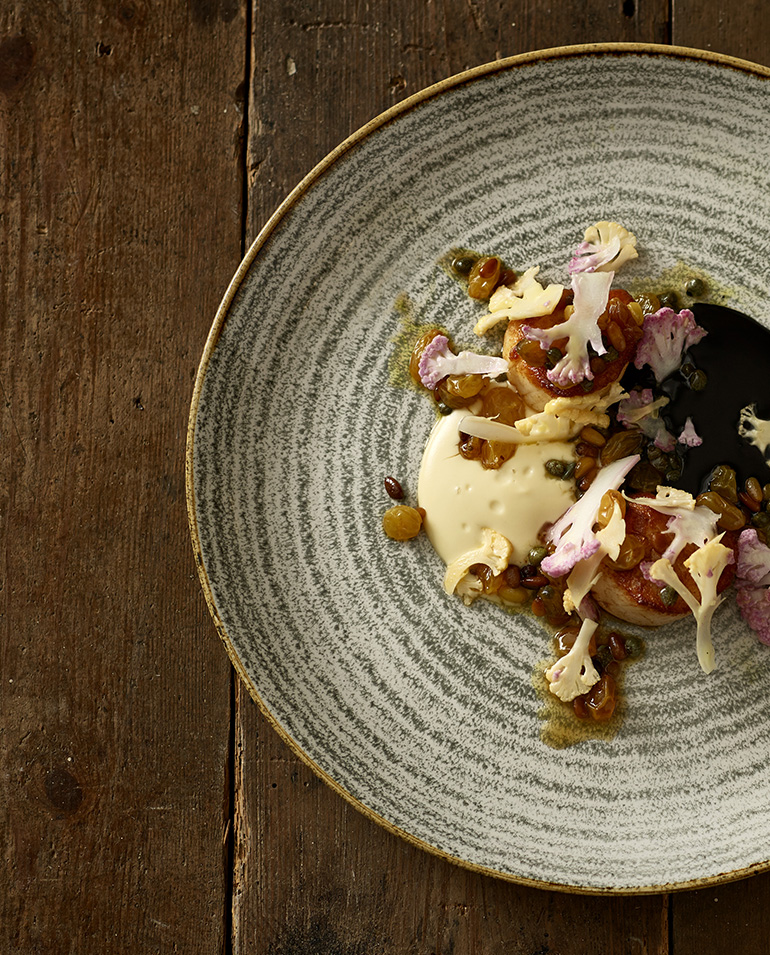 Bill of Fare
Lunch & Dinner
A contemporary celebration of our culinary heritage, prepared with the finest British produce.
The Oysters
Native oysters
Falmouth, Cornwall
No.2 £5 ea.
Menai rock oysters
Menai, N.W. Wales
No.2 £3 ea
Starters
Dressed Dorset crab
Celeriac remoulade, Melba toast
£18
Jerusalem artichoke and roast vine
Tomato soup
£10
Cream of lobster soup
Chervil cream cheese
£12
Traditional duck and pork terrine pie
Pickled vegetables and mustard
£14
Steak tartare
Gentleman's relish
£16
Smoked salmon
Pickled cucumber, goats curd
£18
Griddled prawns
Roast sweet peppers and almonds
£18
Baked Manx queen scallops
Garlic butter and crumbs
£21
Butter leaf salad
Barkham blue dressing, Kentish cob nuts
£11
Devilled eggs mayonnaise
Crispy chicken skin
£9
Simpson's Signatures
Buccleuch Estate 28 day dry aged Beef Wellington
English bobby beans, potato fondant, confit shallot and peppercorn sauce
£42
Steak & kidney pudding
Traditionally steamed in suet pastry, whipped potato, peas and gravy
£20
Lord Woolton pie
Whipped potato, peas and parsley sauce
£21
Native lobster Thermidor
Making a return to our menu since it was first introduced in 1931
£44
Beer battered fillet of cod
Crushed peas, chunky chips, tartare sauce and lemon
£22
Poached smoked haddock
Crushed new potatoes and scallions, lemon butter sauce, soft poached egg
£24
Herb crusted rack of Daphne's lamb
Buttered Savoy cabbage and capers
£27
Roast Yorkshire estate grouse (according to availability)
Game croute, bread sauce, bread crumbs, game chips, braised red cabbage, game Jus
£35
Chef's Signature - Sea trout fillet
Cauliflower puree, sprouts and chestnuts
£28
Chef's Signature - Roasted Scottish herb chicken breast and crispy thigh
Curly kale, potato foam, smoked bacon sauce
£27
Chef's Signature - Tongue-in-cheek
Salted ox tongue, crispy cured ox cheek, horseradish mash, beetroot relish. Tongue first appeared on our menus in the 1930s and was a firm favourite.
£24
Chef's Signature - Butternut squash and barley risotto
New forest wild mushrooms
£21
Chef's Signature - Calf's liver and bacon
Mash, whisky & smoked bacon jam, melted onions, sage
£28
Grill
28 days dry aged Buccleuch beef - 10 oz sirloin
Watercress and grilled mushroom
£32
28 days dry aged Buccleuch beef - 8 oz fillet
Watercress and grilled mushroom
£38
28 days dry aged Buccleuch beef - 10 oz hanger
Watercress and grilled mushroom
£24
Grilled Atlantic halibut
Hollandaise sauce
£36
South Coast Dover sole 16 oz
Grilled or Meunière
£44
Carving Trolleys
daily
28 day dry aged Roast rib of Scottish beef traditionally served from our trolley
Yorkshire pudding, buttered Savoy cabbage, beef fat roast potatoes, gravy and horseradish sauce
£38
Daphne's Welsh saddle lamb traditionally served from our trolley
Potato gratin, buttered Savoy cabbage, mint gravy and red currant jelly
£38
Sides
Chantennay carrots and peas
£5
Wilted/creamed spinach
£5
Thyme roast squash
Celeriac and beetroot, cob nut crumb
£6.5
Charred tenderstem broccoli
£5
Dripping roast potatoes
£5
Puddings
Salted caramel ganache
Rich ganache, pink pepper ice cream, crushed chocolate bourbons
£12
Baked Alaska
Vanilla ice cream with mixed candied fruits, cranberry sauce, brandy flambé
£16
Pineapple carpaccio
Blackcurrant marinated pineapple, yogurt sorbet, crystalised walnuts
£11
Sticky toffee pudding
Butterscotch sauce, burnt orange ice cream, brandy snap
£11
Spiced apple fool
Cinnamon crisp, candied hazelnuts
£11
Jaffa cake slice
Orange and grand marnier cake, chocolate mousse, blood orange sorbet
£12
Freshly churned ice creams with brandy snaps
Vanilla, chocolate, burnt orange, pink pepper
£11
Freshly churned sorbets with brandy snaps
Lemon, raspberry, yogurt, blood orange
£11
Cheese trolley
Lincolnshire poacher / Eve / Barkham blue / Winterdale shaw Served with traditional accompaniments.
2 for £8 | 4 for £16