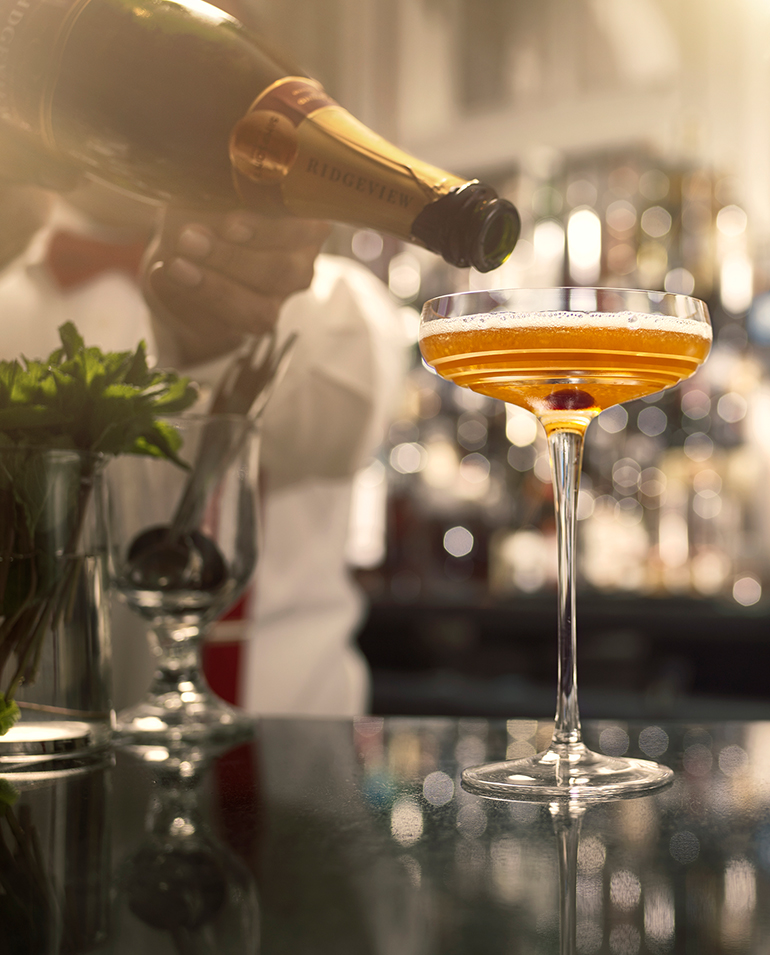 Knight's Bar is one of London's most prestigious hidden gems. With an innovative seasonal cocktail menu curated by head bartender Harry Bereton and his expert team, and an extensive gin selection, it's the perfect place to escape the hectic city life.
Drawing on our heritage as the home of British chess, Knight's Bar today is a luxurious chess inspired haven where the clink of glasses and bonhomie creates an atmosphere incomparable to any other bar in London. Take a seat at our feature chequerboard bar or on our inviting sofas as you peruse our Boozy Bill of Fare - a bespoke drinks menu featuring over forty artisinal gins, a selection of the finest English wines and deliciously intriguing cocktails.
Our exclusive Simpson's London Dry gin distilled by Portobello Road and Simpson's Old Tom gin distilled by Blackdown take pride of place in a gin selection that will delight even the most seasoned gin connoisseurs. Meanwhile, our seasonal allotment cocktail menu is inspired by the bountiful kitchen gardens, orchards and allotments of Britain. Harry, Andrea, Cedric and Azziz have worked closely with our kitchen to source the freshest, most exciting flavours to tantalise and delight your tastebuds!
And if you're feeling a little peckish, we have some light bites for you to enjoy including our signature roast beef and Yorkshire pudding sandwich, and handmade sausage rolls and Scotch eggs.
You can peruse our delicious Boozy Bill of Fare here