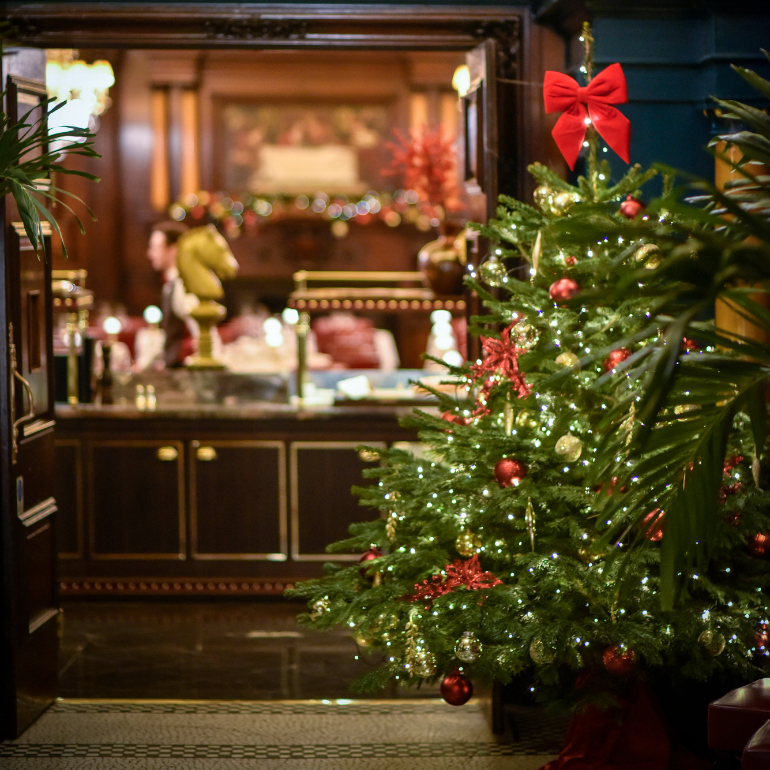 Simpson's in the Strand's unique culinary story is a tale of traditions upheld, undiluted by the tide of time over two centuries and today offers a landmark London dining experience, ideal for your festive celebrations with family and friends.
We have drawn on our history to create dishes that resonate with heritage and delight with modern tastes. From Thanksgiving to New Year's Eve, we'd be delighted to celebrate with you.
Throughout the festive season Simpson's will be open continuously from 12pm-11pm every day.
Explore our festive menus and get in touch with the Simpson's team on +44 (0)20 7420 2111 to reserve your table.
Looking for a venue for your festive event? Host your party or festive dinner at Simpson's in the Strand - discover our festive event packages here.
Thanksgiving 22 NOVEMBER 2018
TO START
CRAB & SWEETCORN CHOWDER £9
ROASTED BUTTERNUT SQUASH £11
Pumpkin seed dressing | Rocket salad
VENISON TERRINE £12
Pistachios | Apricots | Cranberry chutney | Toasted sourdough
FROM THE TROLLEY Each £35
ROAST NORFOLK BRONZE TURKEY
MAPLE CURED ROAST HAM
VEGETARIAN WELLINGTON
ALL SERVED WITH
Roast potatoes | Braised Collard greens and green beans | Cornbread stuffing | Cranberry sauce | Gravy
DESSERT Each £9.50
PUMPKIN & PECAN PIE
Gingerbread ice cream
APPLE, PEAR & SALTED CARAMEL TART
Almond ice cream
---
FESTIVE BILL OF FARE 23 NOVEMBER - 24 DECEMBER 2018
2 courses £45 | 3 courses £55 | 4 courses £60
TO START
LONDON CURED SMOKED SALMON
Capers & shallots | Sour cream | Granary bread
BABY BEETROOT AND GOATS CURD
Crushed hazelnuts | Pomegranate dressing
PORK AND BACON PÂTÉ EN CRÔUTE
Crispy bath chaps | Red onion marmalade
MAINS
ROAST NORFOLK BRONZED TURKEY (FROM THE TROLLEY)
Roast potatoes | Brussel sprouts | Pigs in blankets | Chestnut stuffing | Cranberry and bread sauces | Gravy
JERUSALEM ARTICHOKE RISOTTO
Shaved chestnuts | Black truffles
THYME BAKED SEA BASS
Artichoke puree | Girolle mushrooms | Roast new potatoes
DESSERT
SIMPSON'S CHRISTMAS PUDDING
Brandy custard
MULLED POACHED PEARS ETON MESS
CHOCOLATE AND MANDARIN TRIFLE
CHEESE
BARKHAM BLUE AND MONTGOMERY CHEDDAR
Crackers | Quince Jam
---
CHRISTMAS DAY
Your choice of one starter, one dish from the trolley and one dessert £195
TO START
LONDON CURED SMOKED SALMON
Capers & shallots | Sour cream | Granary bread
TWICE BAKED GOATS CHEESE SOUFFLE
Caramelised onions | Mustard sauce
PORK AND BACON PÂTÉ EN CRÔUTE
Crispy bath chaps | Red onion marmalade
FROM THE TROLLEY
ROAST NORFOLK BRONZE TURKEY
Roast potatoes | Brussel sprouts | Pigs in blankets | Chestnut stuffing | Cranberry & Bread sauce | Gravy
SIMPSON'S VEGETARIAN WELLINGTON
Roast potatoes | Brussel sprouts | Pigs in blankets | Chestnut stuffing | Cranberry & Bread sauce | Gravy
ROAST RIB OF BEEF
Yorkshire pudding | Roast potatoes | Brussel sprouts | Chestnuts
THYME BAKED SEA BASS
Artichoke puree | Girolle mushrooms | Roast new potatoes
DESSERT
SIMPSON'S CHRISTMAS PUDDING
Brandy custard
MULLED POACHED PEARS ETON MESS
CHOCOLATE AND MANDARIN TRIFLE
CHEESE
BARKHAM BLUE AND MONTGOMERY CHEDDAR
Crackers | Quince Jam
COFFEE | MINCE PIES